Als je veel last van hebt van je pezen of gewrichten, baal je. Je bent beperkt je in je beweging, het is pijnlijk en niet altijd even makkelijk te behandelen. Waar komt het door? Komt het door vochtige kou? Verkeerde voeding? Is het genetisch? Stress? Welke andere factoren spelen mee? En wat kan je er zelf aan doen? In dit artikel zie je wat gewrichtsklachten met je ziel en je levenspad te maken kunnen hebben en wat je er op een dieper niveau aan kan doen.
Energie blokkade
Ooit deze uitdrukking wel eens gehoord: "Ik zit in een keurslijf"? In het Engels zeggen ze "To fit the mold" oftewel: in een hokje moeten passen. En weet je hoe dat voelt? Ken je dat gevoel dat je vast zit, dat je van alles moet wat helemaal niet bij je past? Niet fijn, zal je zeggen. Het is frustrerend, pijnlijk, het maakt je boos en opstandig. En als dat er dan ook niet mag zijn, of wanneer 'je uiten' alles alleen maar erger maakt, dan houd je het binnen. En dan? Wat gebeurt er dan met die energie, denk je?
Juist ja: die blokkeert, die gaat vast zitten. Ze stagneert en verzuurt je lichaam en je leven. Je energie (jij) kan niet vrij stromen. Dat is pijnlijk. Diep pijnlijk en frustrerend eigenlijk, want het leven WIL stromen. En wel precies zo zoals het voor jou bedoeld is.
Verzuring en stagnatie
Boosheid, frustratie en stagnatie hebben de neiging om het hout element te belasten. Het hout element is in de Chinese geneeskunde geassocieerd met het seizoen de lente. Dat is het seizoen waarin het leven zich wil ontvouwen zoals het bedoeld is te zijn. Als dat niet gaat – om wat voor reden dan ook – dan zal de stagnatie primair het hout element verstoren. En dat betekent o.a.: verstoring van de de organen lever en galblaas en de spieren en gewrichten. Die horen namelijk bij het hout element.
En dan zeggen we wel eens : 'je (het) vergalt mijn leven' of: het verzuurt mijn leven, het verziekt mijn leven en zo zijn er nog wel wat varianten, naast dat keurslijf dat ik al genoemd heb. Zo zie je ook in de spreektaal de verbanden tussen gewrichtsklachten en stagnatie van de flow in je leven. Verzuring en stagnatie zijn in de natuurgeneeskunde ook bekende oorzaken van gewrichtsklachten. Dat ligt dus niet alleen aan wat je eet. Op een fundamentelere laag, betreft het dus ook wat je emotioneel 'binnen krijgt' en te verteren hebt.
Karakteristieke symptomen die horen bij een verstoord hout element
Je energie is wisselend. Het ene moment barst je van de energie en dan weer ben je zo moe dat het bijna depressief voelt.
Pijn. Ook met pijnen is het wisselend: dan is het heel erg en precies als je dan bij de dokter zit, is het weg. Dan zit het hier en dan daar. Krampen, stijfheid en gewrichtspijnen zijn vooral met het hout element geassocieerd.
Emoties. je kan zo maar ineens ontploffen, boos zijn, of je houdt juist alle gevoelens 'eronder' waardoor je depressief bent. Het kan ook zijn dat je gevoelens een manisch karakter hebben: een periode waarin je alles positief en helder ziet; je hebt er zin in en gaat er voor en dan weer een periode waarin alles zwart en somber is.
Uitingen: Boeren en zuchten worden in de Chinese geneeskunde gezien als ontladingen vanuit het hout element. Irritatie en boosheid. Kort lontje.
Als je naast je gewrichtsklachten ook nog een aantal van de bovengenoemde andere symptomen van het hout-element zijn bij jezelf herkent, dan is het tijd om eens goed te gaan kijken naar hoe je je leven anders kan gaan inrichten.
Wat kan je doen om in elk geval af en toe even helemaal los te gaan, plezier te hebben, je passie vorm te geven? Hoe kan je jezelf weer wat speelruimte geven? Waar is het ondeugende kind in jou dat vrijelijk dingen uitprobeert, lol heeft en op die manier leert?
Qua voeding kan je denken aan ontgiftende, ontzurende voeding en voeding die de lever ondersteunt en ontlast. Ontlasten betekent: geen alcohol, geen vette gefrituurde spijzen, matig met koffie en suikers. Ondersteunen: bittere smaken, knolgewassen, artisjok e.a.
Een gezond hout-element
Als het hout-element gezond is, dan is er flexibiliteit en veerkracht in je zenuwstelsel en je bewegingen. Er is speelsheid, helderheid in denken, voelen en groeien. Iemand met een gezonde lever-galblaas energie is bescheiden, vriendelijk en vergevingsgezind, opgeruimd en lichtvoetig. De goede manager, politicus of jurist heeft een gezonde lever-galblaas energie; een harmonieus hout-element. Vaak zijn dit prettige mensen om mee om te gaan. Ze hebben veel daadkracht, kunnen snel beslissen en goed samenwerken. Er is een natuurlijke helderheid van geest en intelligentie.
Fysiek gezien zullen spieren en gewrichten soepel en veerkrachtig zijn. Je kunt snel in actie komen en daarna weer ontspannen. Giftige gevoelens en giftige stoffen zullen effectief worden uitgescheiden waardoor het lichaam gezond kan blijven.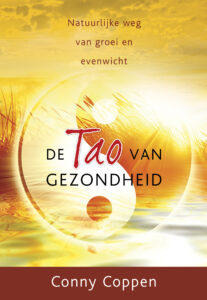 In haar boek de 'Tao van Gezondheid' gaat Conny Coppen dieper en vollediger in op o.a. voeding, meridiaan massage, oorzaken en zo voorts waardoor je inzicht krijgt in het hout element en alle andere elementen. Je leert het lichaam lezen en begrijpen. Het is het instrument van je Ziel. Je Ziel tot expressie wil komen zo, zoals ze bedoeld is: als de unieke mens die jij bent, met jouw unieke kwaliteiten. Wees er zuinig op. Er is er maar één zoals jij dus ondersteun haar en zorg dat ze kan stromen. Veel geluk!